Ms Siyabonga Gcina Kudumela (PMP)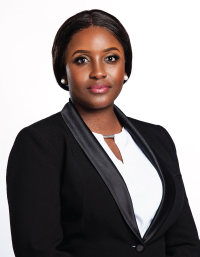 Siyabonga is a project management professional (PMP) and civil engineer leading a national facilities portfolio of commercial properties. She is a multidisciplinary leader with extensive professional experience in delivering successful improvements for business operations responsible for the strategic direction, vision, growth, and the overall technical operational performance of her portfolios.
Over the years, Siyabonga occupied various roles specialising in project and construction management, civil engineering, ESG reporting and analytics and facilities management.
Prior to facilities management, Siyabonga occupied a civil engineering role in various sub-sectors within the construction industry with a focus in managing and executing high impact construction projects mainly in transportation.
Siyabonga has strong technical skills and a natural affinity for cultivating relationships and an aptitude for exploring business opportunities and takes great pride in consistently producing high standard quality of work and her impactful professional strides made in the industry,
Education:
Qualification 1 National Diploma Land Surveying, Tshwane University of Technology, 2013
Qualification 2 National Diploma Civil Engineering, UNISA, 2020
Qualification 3 Advanced Diploma Civil Engineering, UNISA (BTECH), 2022 December.
Certifications:
Certification 1 PMP (Project Management Professional), PMP Number 2996846
Certification 2 SACPCPMP Pr CPM in progress anticipated June 2022
Certification 3 ECSA Pr Eng. Tech anticipated 2023
Knowledge and Experience Areas:
PMBOK, SANS Standards, COLTO, TRH 7 & TMH Codes, NEC, GCC and FIDIC Contracts, ISO 9001, 14001, 18001, Quality management, Occupational health and safety. Environmental Management Act SAN10400, ISO 41001, Property and contract law principles.