Ms. Nomathemba Kubheka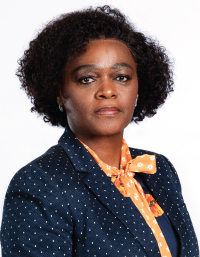 Ms Nomathemba Kubheka is the founder and CEO of MILZET Consulting Services a property development and facilities management company. Milzet Consulting Services manages multi-million-rand projects for clients like Joburg Property Company, Penel Properties, TFMC, Department of Public Works to mention a few.
Before starting MILZET, Nomathemba honed her negotiations and project management skills at various private and public sector organizations including as senior consultant at the IQ Business Group, as assistant director of business regulations at the Gauteng Economic Affairs and Finance; as a researcher in the Department of Local Government and Development Planning, and in logistics at the Independent Electoral Commission. She worked at the University of the Witwatersrand, Department of Construction Economics, and Management.
Her passion for skills development and youth empowerment flourished in the late 1990s as the shifting political and economic landscape exposed the country's great need for qualified workforce that contribute positively to black economic empowerment through sector economic charters. This contributed to the birth of MILZET skills development institute.
Nomathemba is a graduate of Wits University with a Bachelor of Arts in Education, and an MSc in Building.
She currently serves on the board of SANCO Development Institute (SDI), SANCO Investment Group (SIG), and the Mining Qualification Authority (MQA). Previously she served on the Qualifications Committee for Quality Council for Trades and Occupations (QCTO). Internationally, she is a member of the world's largest skills association, Association Talent Development (ATD, formerly American Society).