Mr Zola Majavu CD (SA) – Chairperson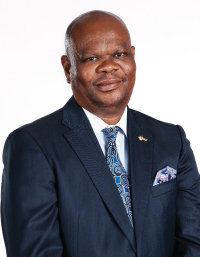 Professional Summary:
Chairman – Mr Zola Majavu is the Sole Proprietor of a law firm practicing under the name of Majavu Inc. He was admitted as an Attorney of the High Court in 1995 and lectured final year LLB students at the University of the Witwatersrand Law Clinic until the year 2000 whilst practicing for his own account. His fields of expertise include, amongst others, Labour Law, Matrimonial Law, Criminal Law, Commercial Law, Sports Law, General Litigation and Public Sector related matters. He continues to hold various leadership positions.
Key Experience
Legal: Admitted Attorney of the High Court of South
Africa, with right of appearance in the High Courts, including Constitutional Court, whose areas of practice include arbitration,
Legal Advisory Services, Civil Litigation, Personal Injury Claims, Dispute Resolution. Served in various Commission of Inquiries, Corporate Governance, Sports and Entertainment Law.
Corporate Governance: A Chartered Director of the Institute of Directors (IoD) and currently the Chairman of the Board of Road Traffic Management Corporation (RTMC).
In the past, he served as a Board member in various institutions including Gauteng Gambling Board Centlec (wholly owned by the City of Mangaung Municipality), G Fleet (former Government Garage in Gauteng) as the Deputy Chairperson and Chairperson of the Legal and Strategic Committee.
Metrobus as the Company Secretary (wholly owned by the City of Johannesburg), Gauteng Liquor Board, Trustee of the Jolinkomo Trust and Phakisa Major Sports Venue, Free State.
Government: Appointed by the Gauteng and Free State provincial governments to head a one-man Commission of Enquiry into the financial operations of various entities and municipalities (2006 – 2008):

– Krugersdorp Town Council
– Lejweleputswa District Municipality
– Phumelela District Municipality
– Moqhaka Local Municipality

Current Professional Occupations

Appointed as Attorney of courts of Lesotho (Mountain

Kingdom)

Specialist Examiner of Candidate Attorney's Board Exams (2007 – current)
Member of the Disciplinary Committee of the Law Society of the Northern Provinces, now Legal Practice Council (2007 – current)
Member of the Club Licensing Committee called First Instance Body (FIB) of the Premier Soccer League (PSL)
Appointed Convener of the Constitutional and Rules

Committee of the Premier Soccer League (2009 –    current)

Past Professional Occupations

Appointed as Acting Judge in the South Gauteng Local

Division of the High Court (6 – 30 Oct 2020)

Pro-Forma prosecutor for the Premier Soccer League (PSL) (2001 to 2011)
Lecturer in the School of Translation, Wits University. I taught Court Interpreters basic legal principles (1999-2001)
Appointed Chairperson of the National Disciplinary Committee of the South African Football Association (SAFA) (2000 to June 2003)
Appointed member of the Dispute Resolution Chamber (DRC) of the Premier Soccer League (PSL) (January 2003 to June 2003)
Pro-Forma Prosecutor of the Disciplinary Committee of the League/Legal Advisor of the League/Convener of the Dispute Resolution Chamber of the League (January 2003 -2011)
Appointed member of the Dispute Resolution Chamber of Federations of International Football Associations (FIFA)since May 2005. I served three terms which expired in September 2016
Appointed Presiding Officer of the Revision Court, Free State Local elections, 1994. Certified Voters Roll for the Great Kroonstad area
Team Leader at MIF (Mortgage Indemnity Fund). My brief was to facilitate dispute resolutions between the leading institutions and bond holders, mainly Khayelethu Home Loans and SANCO (South African National Civil Organisations)
Director of the School of the Legal Practice (JHB) to train Candidate Attorneys, ahead of board exams. (1996 – 2003)

Member of the Community Police Forum in Kroonstad
Legal Advisor to a group of shebeens in Maokeng (MALSA)
Successfully placed a temporary moratorium of liquor license related offences. Presently engaged in talks with MEC to secure liquor licenses for shebeens.
Chairman of the Disciplinary Committee of the Premier Soccer League's (PSL) (2011 – 2015)
Founder and Director

Majavu Inc. specialises in providing legal counsel in     various fields of law

      Majavu Inc. | 1995 – present

Senior Tutor to final-year LLB students

     University of the Witwatersrand | Jul 1993 to Nov 1999

– Supervised final year students who were participating     in practical training

–  Provide legal advice in the Legal Aid Centre

– Lectured on various aspects of the law, notably Labour Law, Civil Procedure, and Alternative Dispute Resolution

Counselor

Maokeng Advice Centre | Nov 1991 to May 1992

Provide free legal advice to members of the community
Conduct legal workshops to members of the community
Board ParticipationCurrent

Appointed as Chairman of the Board of the Road Traffic

Management Corporation (RTMC) from 2013 to date

Past

Centlec, ordinary Board Member and Chairperson of the Remuneration and Human Capital Committee (wholly owned by the City of Mangaung Municipality until 2007
G Fleet, Deputy Chairperson and Chairperson of the Legal and Strategic Committee (former Government Garage in Gauteng), until 2009
Metrobus, Company Secretary (wholly owned by the City of Joburg), until 2007
Gauteng Liquor Board, Ekurhuleni, Chairperson, until 2008
Trustee of the Jolinkomo Trust
Member of the Board of Directors of Phakisa Major Sports Venue, Free State Development Corporation (FDC) and Chair of Remuneration and Human Capital Committee
Meyersdal Eco Estate Board Trustee
Member Gauteng Gambling Board, and Chairman of Corporate Committee (GGB)
Appointed as Administrator of Athletics South Africa (ASA) to stabilise the association and restore governance (2014)
Board Member of Free State Development Corporation (FDC) 2008 – 2010