Mr Thomas Kgokolo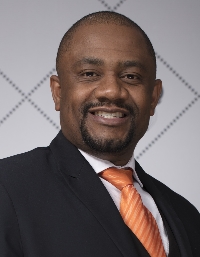 Thomas Kgokolo CA (SA) is the Managing Director of FinEquity Advisory, a company that specialises in business valuations, investment management and business advisory. Thomas is a Chartered Accountant and holds an MBA from the Gordon Institute of Business Sciences where he currently lectures corporate finance.
Thomas is the Chairperson of the audit and risk committee at the Mineworkers Provident Fund (MWPF), a position that requires him to look after R28 billion assets under management. He is also a Deputy Chairperson of MWPF's Board. Moreover, He serves as the Chairperson of the Audit and Risk Committee at the National Consumer Tribunal.
Through various positions as a board and audit committee member, he has oversight of private and public entities with a combined net asset value of +-R30 billion.
He joined Air Traffic Navigation Services (ATNS) SOC Limited as a Board Member in 2018 and serves as a Member of the Audit and Risk Committee at ATNS and Financial Intelligence Centre.
Thomas has previously served as both Chief Financial Officer (CFO) and Chief Risk Officer (CRO) at the Competition Commission of South Africa. In the past, Thomas was nominated for various awards such as, Top Chartered Accountant under 35, Top 40 Outstanding Young Leader under 40 by Destiny Man Magazine.
Qualifications: Chartered Accountant – SAICA; MBA – Gordon Institute of Business Science; B Compt Honours – University of South Africa; B Com Accounting Sciences – University of Pretoria.