Mr Suleman Badat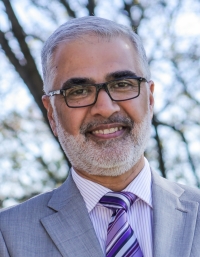 Having qualified as a Chartered Accountant, Suleman went on to assume the role of Managing Partner of Arthur Andersen's Risk Advisory Services division in South Africa which he successfully led for several years. This was followed by a key appointment with Sasol Limited, where as Chief Risk Officer he expanded the internal audit function to cover the group's global operations; established the group's global risk management function; and played a key role in the company's successful listing on the NYSE.
Leveraging his growing reputation as a specialist in the governance, risk and compliance field, he established a risk advisory consulting business which he successfully ran for many years. This took him to Saudi Arabia where he established the risk management function for a major construction company. On his return, Suleman joined the Auditor-General South Africa as a member of the Executive Committee, a position he held until 2017.
Suleman's governance skills and experience was recognised through his appointment to the King IV Committee in 2016.
Currently he is a director at Project Assurance Solutions (Pty) Ltd, a company which he founded. The company's mission is to help government improve success rates of their infrastructure projects.
Suleman currently serves on the following boards and committees: • Air Traffic and Navigation Services SOC Limited: Independent non-executive Director, Chairman of the Audit & Risk Committee, member of the Social & Ethics Committee • Howden Africa Holdings Limited (engineering company listed on the Johannesburg Stock Exchange): Independent non-executive Director, Chairman of the Audit & Risk Committee and member of the Remuneration, Nomination, Social & Ethics Committee • Marine Living Resources Fund: Member of the Audit & Risk Committee
In his personal capacity Suleman is the co-founder of a humanitarian organisation called Mission of Mercy, whose purpose is to make a difference to the lives of the under privileged citizens of our country through feeding, skills development and empowerment programmes.
Qualifications: Bachelor of Accountancy from University of KwaZulu-Natal, Chartered Accountant (SA), Certification in Risk Management Assurance from the IIA