Mr Khulile Boqwana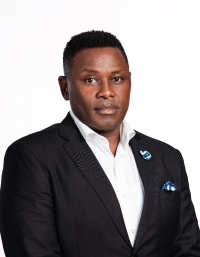 Khulile Boqwana has more than 18 years regulatory experience in both the public sector and private sector, 15 years have been in management roles. Khulile is currently working for Social Housing Regulatory Authority as an Executive Manager Compliance Accreditation and Regulation.
Khulile's experience cuts across Affordable housing Infrastructure delivery, Investment and regulation, Airport infrastructure regulation, broadcasting and Telecommunications regulation and Energy Regulation
He has in-depth knowledge and understanding of corporate strategy, corporate governance, and policy and infrastructure regulation.
Khulile is a very independent and a dynamic leader with strategic management skills supported by experience and skills in project management environment.
Qualifications: Senior Teachers Diploma, B Compt, Masters in Business Leadership