Mr. Ameen Amod CD (SA)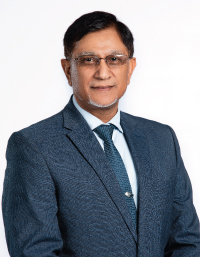 Mr Ameen Amod is a Governance Expert with a BComm degree and an MBA degree from the University of Cape Town.
He is also a Chartered Director, issued by the Institute of Directors. He is a Certified Internal Auditor (CIA), Certified Risk Management Assurer (CRMA) and a Certified Government Auditing Professional Auditor (CGAP), all issued by the Institute of Internal Auditors.
He has previously chaired the Audit and Risk Committees of the Department of Energy, the Department of Defence, the Railway Safety Regulator, the National Consumer Tribunal, and the Provincial Department of Health, and Social Development amongst others.
He has also served on the Audit and Risk Committees of the National Treasury, Accounting Standards Board, and Government Pensions Administration Agency, to name a few.
He currently serves on the Audit Committees of the National Parliament of the Republic of South Africa, and the Department of Public Service and Administration.