Captain Jane Trembath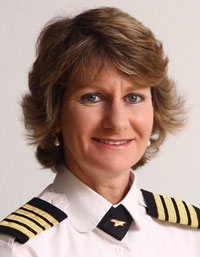 Jane is a pioneering lady Senior Captain at South African Airways, commanding widebody Airbuses A330 and A340 on intercontinental routes. Jane has been flying since 1982 and was one of the first women pilots to join SAA.
Some of Jane's other aviation firsts were: First woman in South Africa qualified to fly the Boeing 747-400 in 1993, Captain of SAA's first all-female crew in 2001, first South African woman to command wide-body airliners in 2007, and Captain of SAA's first all-female crewed intercontinental flight to Sao Paulo in 2018.
Jane has extensive aviation industry experience and in-depth knowledge of air traffic management. As a volunteer for the Airline Pilot's Association, she represented ALPA at the National Airspace Committee and the ATNS Operator's Committee for 20 years.
Jane has a passion for empowerment of women and inspiring girls to choose aviation as a career. Jane served on SAA's Pilot Employment Equity Recruitment committee and was chairperson and co-developer of the SAA Pilot's Association Mentorship Programme.
In her spare time, Jane is Chairperson of Korsman Conservancy, an award-winning voluntary organisation of citizen conservationists caring for the Korsman Bird Sanctuary in Benoni.