Ms Tendani Ndou – Principal ATA, Acting – Executive: Commercial Services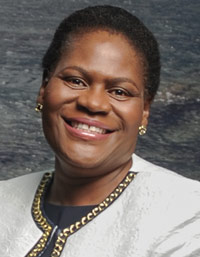 Tendani has served in various Senior Management positions at Johannesburg City Power as General Manager of Internal Audit, Head of Internal Audit and Risk Management at South African Local Government Association, General Audit Manager at the Legal Aid Board of South Africa, Cluster Audit Manager at the Limpopo Provincial Internal Audit as well as team leader at the Office of the Auditor General.
Prior to Tendani appointed as Principal of the Aviation Training Academy, she held the position of Executive Risk & Compliance at ATNS.
Tendani served as a member of the Audit and Risk Committees and is currently serving as the Chairperson of the Audit and Risk Committee for the South African Nursing Council.
Tendani holds an MBA from Georgetown (USA)/ ESADE (Spain) Universities, BCom Honours in Cost Management Accounting from the University of Venda (RSA) as well as a CIA-Institute of Internal Auditors (IIA) qualification.
She is also a member of the Institute of Directors and Internal Auditors.