Mr Zenzele Myeza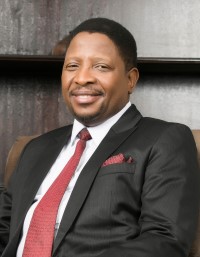 Mr Myeza has more than 30 years managerial experience at senior and executive management (Board) level in substantial organizations in both the Public and Private Sectors, where he lead senior and executive management teams.
He has a well-honed ability to straddle both strategic technical and operational issues; and spent the majority of his career in engineering or technological oriented industries, including aviation, infrastructure engineering projects, the nuclear industry (R&D and innovation), fluoro-chemicals and similar, and he is experienced in economic development,  retail management, property development, sales and management; lottery & gaming solutions and the ICT industry.
During his years in strategic management roles, he was in charge mainly of the full command chain of the organisation's financial management; investment management; auditing; risk management; information technology; business development; operations; marketing management; property management & development; facilities management; project management and human resource functions, amongst others. He is a seasoned negotiator and is well known for his ability to successfully transformation and turn-around organizational strategies, planning and implementation. His experience includes, inter-alia, structuring development finance, area development and regeneration, deal making, initiating and implementing mega infrastructure and economic development-type projects and good corporate governance.
Board Memberships
Mr Myeza has served in the following Boards and Committees;
Chief Executive Officer: AgriSETA
Non-Executive Director: Air Traffic Navigation Services (ATNS), April 2018 to present
ATNS Board Committee: Business Research, Operations & Development (Chairperson)
Non-Executive Director: NHBRC
Director: Chas Everitt International Property Group, 2008 to present
Member of the Audit & Risk Committee: Pelchem (NECSA subsidiary), 2014 to 2017
Chairperson: Audit Committee: Dipaleseng Municipality in Balfour, 2014 to 2015
Chairperson: Audit Committee: Education Labour Relations Council (ELRC), 2009 to 2012 (2007 to 2008 Audit Committee Member)
Director: Newtown Development Company Pty Ltd, 2002 to 2006
Director: Constitution Hill development Company Pty Ltd, 2002 to 2006
Chairperson: Risk Management Committee: Gauteng Dept of Education, DATE
 He has held the following executive leadership positions in his career:
Group Executive: Finance & Business Developmen: Nuclear Energy Corporation of SA (NECSA GROUP)
Independent Management Consultant: Self employed
CFO and Acting Deputy City Manager: Corporate and Strategic Services: City of Ekurhuleni Metro Council
Managing Director: Chas Everitt International Property Group (Midrand)
Chief Executive Officer & Board Member: South African Civil Aviation Authority (SACAA)
Finance Director: Johannesburg Development Agency (JDA)
Group Finance Manager: GTech Corporate Ltd