Mr Jeoffrey Matshoba – Executive: ATM/CNS Planning & Standards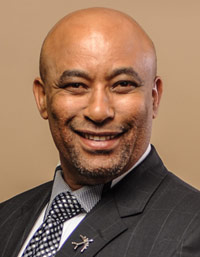 Jeoffrey started his career in 1991 as an Air Traffic Control trainee. After completing his training, he worked as an aerodrome and approach controller at various Air Traffic Service Units. Prior to becoming an Executive manager, Jeoffrey has served in various management positions within ATNS and also worked at the South African Civil Aviation Authority as Senior Manager responsible for Air Navigation Service. There he was responsible for regulatory oversight for ATS, AIS, CNS and procedure design services. In his portfolio, Jeoffrey leads the strategic planning of Air Traffic Management, Communications, Navigation and Surveillance systems and infrastructure at ATNS and has represented South Africa in international and regional forums that are responsible for the Planning and coronation of Air Traffic management and infrastructure deployment in the region.
Jeoffrey completed his International Executive Development Program with WITS and London Business School and holds a BCom degree and other Aviation management qualifications.
He represents South Africa at various international forums and currently is the ICAO Panel member of the Separation and Airspace Safety Panel.